Event #2~ Completing and reporting results for their Phase 3 Head and Neck Cancer.
Event #3~ CVM granted a $1.5 million from National Institute of Health (NIH) to develop CEL-4000 their rheumatoid arthritis candidate treatment vaccine. CVM's first product based upon their LEAPS platform.

Based upon recent valuations for successful drugs that get approval by the FDA Cel-Sci could be worth $4 billion or based upon the fully diluted share count including all warrants,options and converts outstanding would result in a share price of around $130.00/sh not including the current arbitration! Real food for thought!
CEL-SCI Corporation ( CVM~ $1.80)
CVM is a Phase 3 Cancer immunotherapy company. The Phase 3 study is fully enrolled with 928 patients. The company believes it is most logical to boost the patient's immune system while it is still intact in order to have the greatest possible impact on survival. Therefore, CVM treats patients who are newly diagnosed with head and neck cancer with its lead investigational immunotherapy Multikine (leukocyte Interleukin, Injection), before they have received surgery, radiation and/or chemotherapy. Head and neck cancer represents about 6% of all cancers. Multikine has received Orphan Drug designation from the FDA for the treatment of head and neck cancer patients with advanced squamous cell carcinoma. The company has received patents for Multikine from the US, Europe, China and Japan.
Head and neck squamous cell carcinoma (HNSCC) accounts for 63,000 new diagnosis annually within the United States (630,000 worldwide). HNSCC is a disease with high unmet medical needs and a prognosis of 5 year survival is due to late diagnosis and limited therapeutic options.
CANCER IMMUNOTHERAPIES, have enormous potential and have captured close to 50% of the overall oncology drug market.
Multikineis is a first-line and novel immunotherapeutic approach to advanced primary HNSCC that boost/enhance the anti-tumor responses of the immune system prior to standard of care regimen.
The majority of HNSCC are squamous cell carcinomas. Squamous cells are cells that line moist surfaces such as those inside the head and neck (e.g. the mouth,nose and throat). HNSCC is more prevalent in males than females and in individuals over the age of 50.
The Phase 3 head and neck cancer study's Independent Data Monitoring Committee completed a review of the data from all 928 patients enrolled in the study and recommended continuing as constituted, as there was no evidence of any significant safety questions. It was determined that CVM Phase 3 head and neck study is fully enrolled. All 928 patients are now being followed per the protocol. The primary endpoint of the study, a 10% improvement in overall survival of the Multikine treatment regimen plus Standard of Care (SOC) vs. SOC alone, will be determined after a total of 298 deaths have occurred in these two main comparator arms of the study and have been recorded in the database. All that remains to be done in this pivotal Phase study is to continue to track patient survival until the primary endpoint has been met. It has been estimated that this will happen during the first half of 2019 when the survival rate can reached.
The primary risk factors for HNSCC include tobacco usage, alcohol consumption, human papillomavirus virus and Epstein-Barr virus infections.
Multikine immmunotherapy is designed for use as first-line therapy in primary advanced HNSCC to promote and enhance the anti-tumor responses of the immune system prior to other SOC regimen (i.e. surgery, radiation and chemotherapy). Multikine helps the immune system recognize the tumor at a time when the immune system is still relatively intact and thereby better able to exert anti-tumor responses.
Cancer including HNSCC is a complex disease with interactions between normal and neoplastic cells. Current therapies for cancer largely rely on drugs or radiation that kill dividing cells and block cell division. These treatments while effective may also have toxic side effects on normal cells. The potential for cancer immunological therapeutics that specifically target tumors that will not injure most normal cells is massive. At present 50% of the overall oncology drug market is aimed at Immunotherapy.
Cancer immunotherapy aims to enhance or boost the host immune response to the developing tumors and one strategy is to utilize/administer cytokines. Cytokines are small secreted or membrane-bound proteins produced by cells of innate and adaptive immune systems in response to microbes and tumor antigens. Cytokines are also produced by non-hematopoietic cells including endothelial cells, neurons, astrocytes, epithelial cells and vascular smooth muscle cells. Cytokines act as molecular messengers to mediate intercellular signaling by allowing the cells of the immune system to communicate with one another to exert pro- or anti-inflammatory responses in the immune system.
The current arbitration is against "Company "X" that originally ran the clinical test and is being sued due to alleged incompetence. The determination of award is anticipated by the end of the 2nd Quarter of 2018 and the company is suing in excess of $50+ million. This would equal at least $3 dollars in cash/sh. It could easily be twice that amount.
Food for thought:
During the past 9 months Late Stage Cancer Company acquisitions have resulted in eye-popping cash windfall for investors:
KITE bought by Gilead for $12 Billion Phase 1,2 and 3- Solid Tumors ALL,NHL, Multiple Myeloma, CLL, AML-August 2017
JUNO bought by Celgene for $10 Billion Phase 1 & 2 -NHL, ALL, Multiple Myeloma, NSCLC Mesothelioma, Ovarian, Breast, Lung,Neuroblastoma January 2018
Impact Biomedicines bought by Celgene for $7 Billion Phase 3 myelofibrosis and polycythemia vera January 2018
Bioverativ (BIVV)bought by Sanofi for $11.6 Billion Phase 3 hemophilia January 2018
AveXis bought by Novartis for $8.7 Billion on April 9th 2018. AveXis has a hopeful therapy for spinal muscular atrophy.
The flip of the Coin
Incyte said on April 7th that their experimental cancer drug failed in a clinical trial . The drug epacadostat was viewed as a promising drug designed to work by harnessing the patients own immune system to destroy the tumor cell. The stock price dropped by $4 Billion on a Phase 3 drug trial.
We make mention of the positive and negative results of these clinical trials because all of the above were either bought out for billions after successful Phase 3 or, on the other hand, results had poor Phase 3 trials and the stock dropped by $4 Billion!
CVM is currently near the end of a large Phase 3 study. The market cap is only $32 Million! Do the math!
The second drug candidate is the L.E.A.P.S (Ligand Epitope Antigen Presentation System) technology composed of: LEAPS-H1N1-DC, a product candidate under development for the potential treatment of pandemic influenza in hospitalized patients, and CEL-4000, a vaccine product candidate under development for the potential treatment of rheumatoid arthritis. Select Financial Data:
Corporate phone #703 506 9460
website: http://www.cel-sci.com
Listed: NYSE American CVM
Shares Outstanding: 16.5 million
Management as a group controls 2 million shares
Geert Kersten (President) recently bought $500,000.00 of common shares
Market cap: (share price $1.80) market cap $32 million
Options,warrants and converts with an average conversion price of $7.68~ 16 million. At this time we have chosen not to include as a fully diluted number because these instruments are presently out of money.
Recent corporate raise:During February 2018 the company raised $4.75 million selling 2.6 million shares of common and purchase warrants. This offering was all restricted units
December 31, 2017 cash position~$2.1 million
Accumulated deficit~$306 million
Total stockholders' deficit~ $4.8 million
Since the Company launched it Phase 3 clinical trial for Multikine, the Company has incurred expenses of approximately $47 million as of Dec 31st 2017 on direct costs for the Phase 3 clinical trial. It also believes that an additional $12.2 million will be needed for the remainder of the Phase 3 clinical trial.
On June 15, 2017 management approved a 25 for 1 reverse split.
NOL~ $99 million~ equals around $6.00/sh. An attractive tax benefit.
Recent press releases:
January 30, 2018
http://www.cel-sci.com/press_326_US_LeapsPatent.html
Feb 12, 2018
http://www.cel-sci.com/press_329_1QFY18fin.html
April 4 2018
http://www.cel-sci.com/press_332_letter.html

Please take some time and review the most recent presentation that management presented at a Micro Cap conference in NYC on April 9,2018.
http://files.constantcontact.com/3a82c0b6be/a3a3d448-09a5-474d-b3bc-557f38a1f57f.pdf?ver=1523484133000
Limitations of the immune system in fighting cancer and the need to empower the immune system. In the case of cancer, the immune system alone often fails to effectively fight the tumor for the following reasons:
The normal immune system is 'blind' to tumor cells because the tumor cells are derived from the body's own cells. The body 'thinks' of the tumor as 'self', which creates a phenomenon known as 'tumor tolerance'.
The immune system may recognize certain cancer cells, but the response may not be strong enough by itself to destroy the cancer. Because the response is not sufficient, or it does not occur in the right place in the body and it does not stimulate nor send the right 'immune cells' to destroy the tumor; the tumor has the ability to defend itself. Cancer cells may secrete substances that keep the immune system in check. Therefore often in the case of cancer, the immune system thus may need a boost to become more effective in fighting the cancer.
This is why CVM's immune booster Multikine has such promise and as mentioned is currently in Phase 3 trials.
Please review the next 2 diagrams that may aid you the investor on how this injection works to boost the Immune system.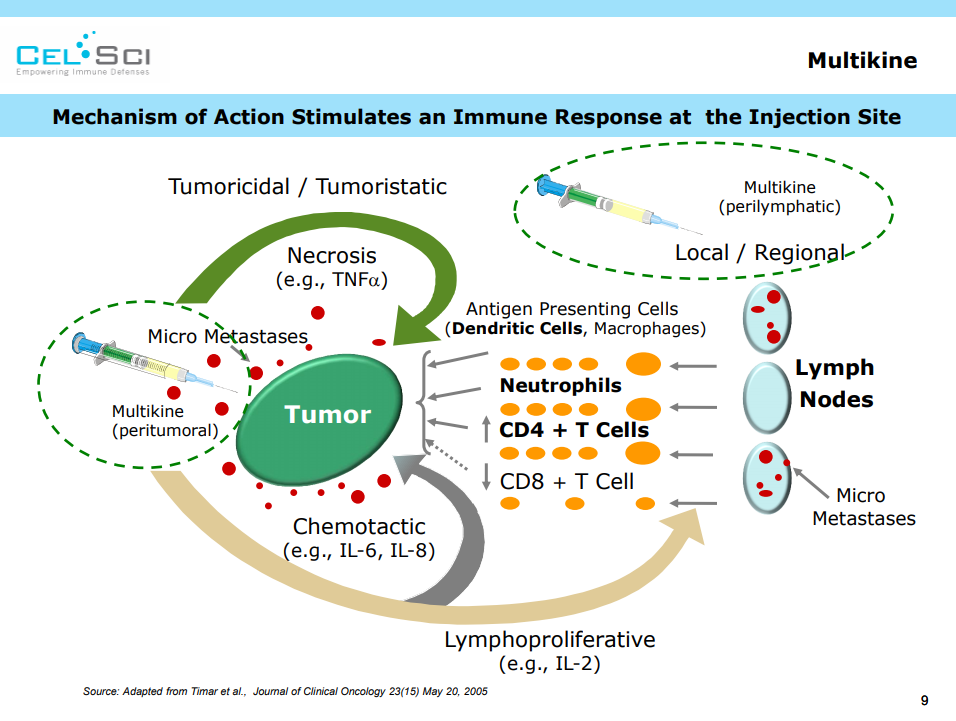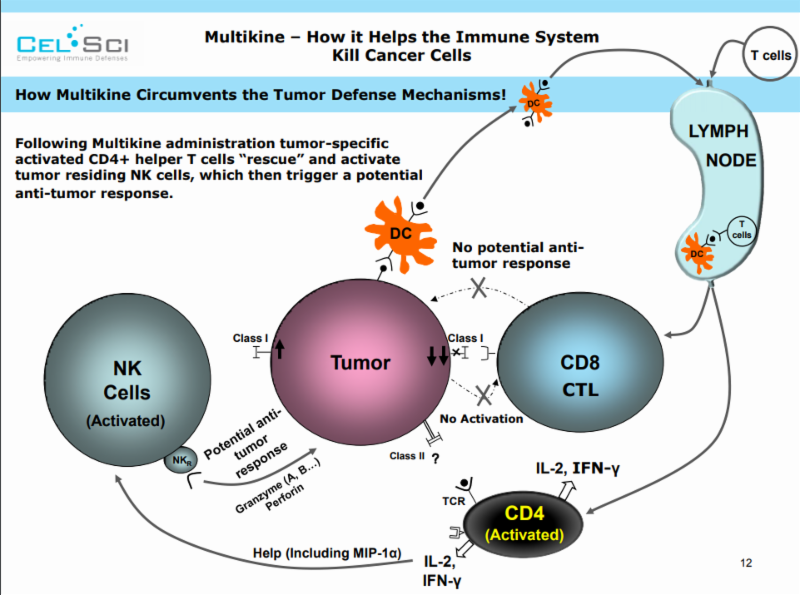 Overview opinion and Recommendation:
The biotech industrial segment has always been measured by what is their cash burn rate and what Phase is the current trial and results that will allow for the company to proceed with testing and FDA filing.
The usual and customary road traveled by many junior biotech companies is to raise money and then raise additional funds as the Phase of trials head toward success. Once a level of success has been reached the large biotech enters the picture with a partnership that supplies cash or buys the company. From review of prior paragraphs it has been shown how major firms buyout the company in various phases of study for many billions of dollars!
CVM like many other micro-biotech companies has raised countless millions of dollars and has re-capitalized a number of times over the years. This is the nature of the beast! Due to the Company's negative working capital, stockholders' deficit, recurring losses from operations, the future liquidity needs, the company will either raise additional working capital in the form of a Corporate partnership, debt and or equity financing.
During the next few weeks the company will enter into the final closing arguments concerning a lawsuit with "Company "X". CVM has demands of $50+ million because mismanaged and poor execution of their Phase 3 trial concerning their drug," Multikine". The anticipated positive results for the company would be a much needed cash infusion.
If the company was awarded the minimum of $50 million that would result in about $3/sh in cash and of course the stock would most likely double just based upon this potential news.
Phase 3 companies are being sold for billions of dollars and CVM's Phase 3 trial only presents shareholders with a market-cap of less than $32 million! Getting to Phase 3 is not an easy accomplishment to say the least! During the 1st half of 2019 CVM should complete the current phase and if it shows the resulted needed to proceed it is very possible that someone will come along and buy the company out for $3-4 billion or $100.00 and $130.00/sh!
We have a stock that is currently trading at $1.80 and in reality a moonshot on the launchpad! The real risk could be not owning a position in CVM at current levels.
We have placed a strong speculative buy recommendation for short and long capital appreciation. The upside potential in our opinion outweighs the downside risk.
WE MAY BUY, SELL AND OR HOLD AT OUR OWN DISCRETION .We currently own shares in CVM and have been hired for PR for 1 year .We wish to give credit to First Genesis Consulting for some their material that was used within this report
SUBSCRIPTION INFORMATION:
1 YEAR HARD COPY $250.00
1 YEAR PERSONAL CONVERSATION WITH EDITOR $3000.00- ANYTIME ACCESS VIA PHONE
$1800.00 ANYTIME ACCESS VIA PHONE FOR 6 MONTHS- CALL FOR INFORMATION- WE CALL YOU AND YOU CAN CALL US+ FIRST CALL ON RECOMMENDATIONS PRIOR TO ALL OTHERS.
1 TRIAL "NEW" STOCK PICK BEFORE RELEASED VIA EMAIL $100.00- INCLUDE PHONE NUMBER.
SEND CHECK AND PHONE NUMBER TO THIS ADDRESS.
S A ADVISORY, 4708 SOUTH HOLLADAY BLVD, SLC ,UTAH 84117- ANY QUESTIONS CALL 949 922 9986