The management team, directors and advisory board have mostly migrated from Fortune 100 & Fortune 500 companies. The depth of expertise is very unusual for an emerging medical device company.
BSGM addresses the AF ( Atrial Fibrillation) & VT (Ventricular Tachycaria). According to the American Heart Association, cardiac arrhythmias affect over 14.4 million Americans, with the most prevalent and deadly arrhythmias being Arial Fibrillation (AF) & Ventricular Tachycardia (VT).

AF is the most common form of arrhythmia, & the AHA forecasts the number of AF cases in the US to rise from 6.1 million in 2015 to 8-12 million by 2050. AF is also a costly condition, with 600k hospitalizations/yr causing a direct cost of about $6B annually- $26B including indirect costs.
Once cleared by FDA during mid 2017 BSGM will seek clearance during 2018 within the EU and then Japan and eventually China.
BioSig Technologies,Inc.(OTCQB~BSGM~ $1.33)
BSGM is a development stage medical device company that is developing a proprietary technology platform to minimize noise and artifacts from the Cardiac recordings during Electrophysiology studies and Ablation. The PURE (Precise Uninterrupted Real-Time evaluation of Electrograms) EP System, a surface electrocardiogram and Intracardiac multi-channel recording and analysis system that acquires, processes & displays electrocardiogram & electrograms required during electrophysiology studies and ablation procedures.
The PURE EP system is designed to assist Electrophysiologists in making clinical decisions in real-time by providing information that is not always easily obtained, if at all, from any other equipment presently used in Electrophysiology labs. The PURE EP System's ability to acquire high fidelity cardiac signals will potentially increase these signals' diagnostic value, and therefore offer improved accuracy of the EP studies and related procedures.
In addition BIOSIG are developing signal processing tools with the PURE EP System. It is believed that these will assist electrophysiologists in further differentiating true signals from noise and will provide guidance in identifying ablation targets.
BIOSIG has focused on improving the quality of cardiac recordings obtained during ablation of atrial fibrillation, the most common cardiac arrhythmia, and ventricular tachycardia, an arrhythmia evidenced by a fast heart rhythm originating from lower chambers of the heart, which can be life threatening.
Cardiac ablation is a procedure that corrects conduction of electrical impulses in the heart that causes arrhythmia. During this invasive procedure, a catheter is usually inserted using a venous access into a specific area of the heart . A special radio frequency generator delivers energy through the catheter to small areas of the heart that cause the abnormal heart rhythm.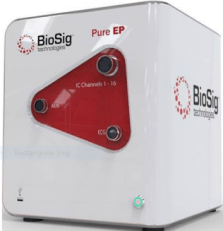 BSGM's overall goals using this proprietary technology as a new Platform will have the following advantages over the Electrophysiology recording systems currently available on the market.
1. Higher quality cardiac signal acquisition for accurate and more efficient electrophysiology studies.
2. Precise, uninterrupted, real time evaluations of electrograms.
3. Reliable cardiac recordings to better determine precise ablation targets, strategy and end point of procedures.
4. A portable device that can be fully integrated into existing electrophysiology lab environments.
SHORTCOMINGS OF EXISTING ARRHYTHMIA TREATMENTS:
1. Drug therapies~ not very effective
2. Current technology & procedure for ablation yield insufficient and "old" technology information and signal quality for both AF & VT.
3. Procedure time very long term 2-8 hours.
4. Success rate inadequate- many need multiple procedures.
KEY ADVANTAGES OF PURE EP SYSTEM
1. Improved resolution may translate to better ability to pick up specific signals and relate them to specific structure and substrate. The dynamic range of the system is larger and will likely translate into better ability to see both L & S signals with similar resolution.
2. The display options are also more intuitive & flexible - Different filtering can be applied to the same signal and displayed as separate simultaneous signals.
3. Information unobtainable from any other EP Device on the market today.
4. Proprietary hardware/signal processing capabilities/ability to open multiple review windows.
5. To assist in clinical decision making in real time.
6. To maximize ablation efficiency and minimize the need to repeat procedures.
7. To shorten and simplify EP procedures.
8. Increase accuracy- Noise canceling( interference).
PURE EP ADVANTAGE TO MARKET SOLUTIONS
The success of catheter ablation treatment decisions are highly dependent on the quality and level of ECG and intracardiac electrogram signals.
Pure EP Systems are different from current recording systems; its proprietary hardware & signal processing provides enhanced real-time information. PURE EP offers improved clarity of acquired cardiac data even at the very low undetectable signal levels for better clinical decisions and diagnostics/outcomes.
EP Studies
Electrophysiology studies (EPS) are minimally invasive tests that occur in conjunction with ablation procedures that help doctors understand the nature of abnormal heart rhythms and take place in a special room called an electrophysiology (EP) lab or catheterization (cath) lab for 3-6 hours, on average. These tests are performed by a special cardiologist (electrophysiologist) while a patient is mildly sedated. During an EPS, about 3 to 5 electrically sensitive catheters are placed inside the heart to record electrical activity.
It is estimated that there are about 2,000 electrophysiology labs in the U.S. and 2,000 electrophysiology labs outside the U.S., each with an electrophysiology recording system costing an average of approximately $250,000. With the potential of 14.4 million Atrial Fibrillation patients and improvements in technology for Atrial Fibrillation ablation therapy, significant growth is predicted for the number of hospitals building electrophysiology labs. Analysts forecast the global market for EP devices to grow from $2.5 billion in 2012 to $5.5 billion by 2019 - making it one of the fastest growing medical device segments
The Problem Affecting EP Labs
EP labs consist of sophisticated equipment that requires an electrophysiologist to mentally integrate information from a number of sources during procedures. As one can imagine, the lab environment and associated recording systems create significant amounts of electrical and non-biologic noise during procedures which hamper recordings of small electrophysiological potentials. Moreover, since most of the equipment in use tends to be based on technology 20-30 years old, a great deal of electromagnetic interference is generated in these environments.
As a result, preserving space and time characteristics of the heart's signals in a challenging recording environment is a difficult task as high quality, accurate information provided by the recording system is essential for an electrophysiologist to determine ablation strategies during the termination of various arrhythmias. Therefore, it is critical that the recording system's noise removal technique does not alter appearance and fidelity of these potentials. Unfortunately, current systems in use today, which are nearly exclusively produced and deployed by large medical device companies, do not fulfill this need.
Management further believes that the PURE EP System and its signal processing tools could contribute to an increase in the number of successful ablation procedures performed in each electrophysiology lab and improved patient outcomes as well (i.e., reduction in repeat procedure rates and shorter procedure times), thereby substantially raising the value of the platform among EP labs. As a result, successful AF treatments incorporating the use of PURE EP improves patient outcomes, potentially reduces the incidence of strokes, and can increase utilization of ablation procedures in EP labs, which enhances clinic revenue.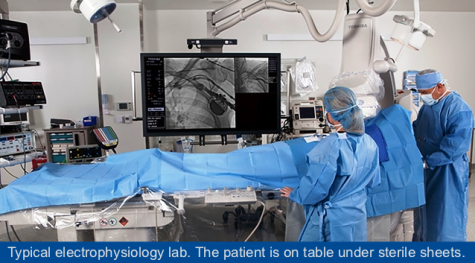 The PURE EP medical device product has had many validation studies.
Mayo Clinic (MN)
Mount Sinai Medical Center (NY)
Texas Cardiac Arrhythmia Institute (TX)
UCLA Cardiac Arrhythmia Center (CA)
U.H. Case Medical Center (OH)
William Beumont Hospital (MI)
SPECIAL NOTE: ANNUAL LD MICRO CONFERENCE DECEMBER 7TH 2016 IN LOS ANGELES , CAL
Corporate Information:
BioSig technologies, Inc. SEC report BSGM
8441 Wayzata Blvd Suite 240 employees 11
Email address: [email protected]
Kenneth Londoner~Chairman~~Greg Cash CEO
Phone: 763 999 7330
Outstanding shares as of October 18, 2016- 21 million shares
Fully diluted shares outstanding which include all in the money and out of the money options, warrants and total conversion of Preferred -33 million
Fiscal Year-end Dec 31st
Average volume/day 38k
52 week range .90- $2.20
NO DEBT
NOL-$42 million
SEC 8K filing on Oct 28th 2016 (form D)~ 346,567 units ( one common share & 1/2 warrant sold to management and directors @ $1.50/unit for total consideration of $519,850.00. The balance to be sold in this offering equals $4,480,151.00
November 18th 2016 Special shareholders meeting to increase authorized to 200 million from 50 million shares and increase incentive plan of issuance of common pursuant to award.
Directors & executive officers as a group control 9.6 million shares ( this does not include out of the money options and warrants, which increases ownership dramatically on a fully dilute basis).
5% owners~ Alpha Capital and MIKO Consulting Group own another 6 million shares.
The public currently owns around 5 million common shares as of Nov 18th on or about 2016.
CURRENT SEC FILINGS
http://filings.irdirect.net/data/1530766/000118518516005771/biosigtech10q093016.pdf
http://filings.irdirect.net/data/1530766/000118518516005640/biosigtech8k102716.pdf
http://filings.irdirect.net/data/1530766/000118518516005411/biosig424b3-090916.pdf
http://filings.irdirect.net/data/1530766/000118518516005183/biosig10q063016.pdf
OTHER MEDIA
Great video interview with management of BSGM

OCTOBER 27TH 2016
http://www.otcmarkets.com/stock/BSGM/news/BioSig-s-PURE-EP-System-to-Enter-Seventh-Pre-Clinical-Trial?id=143448&b=y
http://www.otcmarkets.com/stock/BSGM/news/BioSig-Technologies--PURE-EP-System--Innovation-for-the--4-Billion-Electrophysiology-Market?id=136842&b=y Read between the lines concerning this press release.
http://www.otcmarkets.com/stock/BSGM/news/A-New-Age-for-Atrial-Fibrillation-Ablation--BioSig-s-PURE-EP-Enhanced-Electrophysiology-Recording-System?id=136640&b=y HUGE market potential worldwide for BSGM
PLEASE REVIEW DATA CONCERNING AF, VT, ABLATION & EP
http://www.heart.org/HEARTORG/Conditions/Arrhythmia/AboutArrhythmia/What-is-Atrial-Fibrillation-AFib-or-AF_UCM_423748_Article.jsp#.WC0bv9UrKM8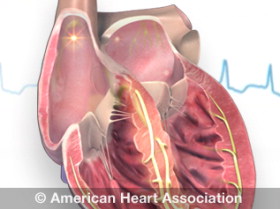 What happens during AFib( atrial fibrillation)?
Normally, your heart contracts and relaxes to a regular beat. In atrial fibrillation, the upper chambers of the heart (the atria) beat irregularly (quiver) instead of beating effectively to move blood into the ventricles.
If a clot breaks off, enters the bloodstream and lodges in an artery leading to the brain, a stroke results. About 15-20 percent of people who have strokes have this heart arrhythmia. This clot risk is why patients with this condition are put on blood thinners. Even though untreated atrial fibrillation doubles the risk of heart-related deaths and is associated with a 5-fold increased risk for stroke, many patients are unaware that AFib is a serious condition.
https://www.grandviewresearch.com/press-release/global-atrial-fibrillation-market
http://www.healthline.com/health/ventricular-tachycardia#Outlook8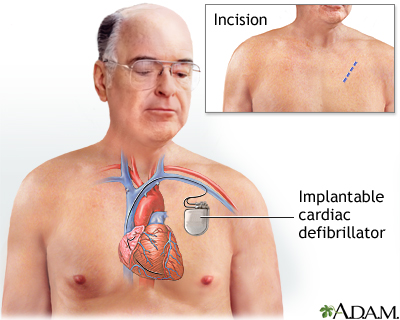 https://medlineplus.gov/ency/article/000187.htm
After an episode of VT, steps are taken to further episodes. Medicines taken by mouth may be needed for long-term treatment. However, these drugs may have severe side effects. They are being used less often as other treatments are developed. A procedure to destroy the heart tissue that is causing the abnormal heartbeat (called ablation) may be done. An implantable cardioverter defibrillator (ICD) may be used. It is a device that detects any life-threatening, rapid heartbeat. This abnormal heartbeat is called an arrhythmia. If it occurs, the ICD quickly sends an electrical shock to the heart to change the rhythm back to normal. This is called defibrillation
http://www.meddeviceonline.com/doc/the-rapidly-changing-catheter-ablation-device-market-0001
TOP MEDICAL DEVICE MANUFACTURERS
Johnson & Johnson $27.50B
GE Healthcare $18.29B
Medtronic $17.00B
Baxter International $16.67B
Siemens Healthcare $15.77B
Philips Healthcare $11.17B
Cardinal Health $11.00B
Covidien $10.66B
Abbott Labs $10.11B
Stryker $9.66B
Danaher $9.38B
Becton Dickinson $8.45B
Boston Scientific $7.38B
Essilor $6.89B
Alcon $6.62B
B. Braun $6.59B
Fresenius $5.95B
St. Jude Medical $5.62B
3M Healthcare $5.57B
Olympus Medical $4.79B
Zimmer $4.67B
Smith & Nephew $4.62B
Hospira $4.50B
Terumo $4.09B
CareFusion $3.84B
Getinge Group $3.42B
C.R. Bard $3.32B
Biomet $3.20B
Varian Medical $3.00B
Bayer $2.87B
As of 2015, AVNRT comprised of 17.2 percent the total catheter-based ablation procedures for treatment of cardiac arrhythmias. Given that cryoablation devices are only used for a small portion of all catheter-based procedures, cryoablation will be used far less frequently than RF ablation. However, despite the smaller target market, it is expected that the number of cryoablation procedures performed will increase at a moderate rate due to physicians' adoption of the product and an increase in the number of AVNRT procedures.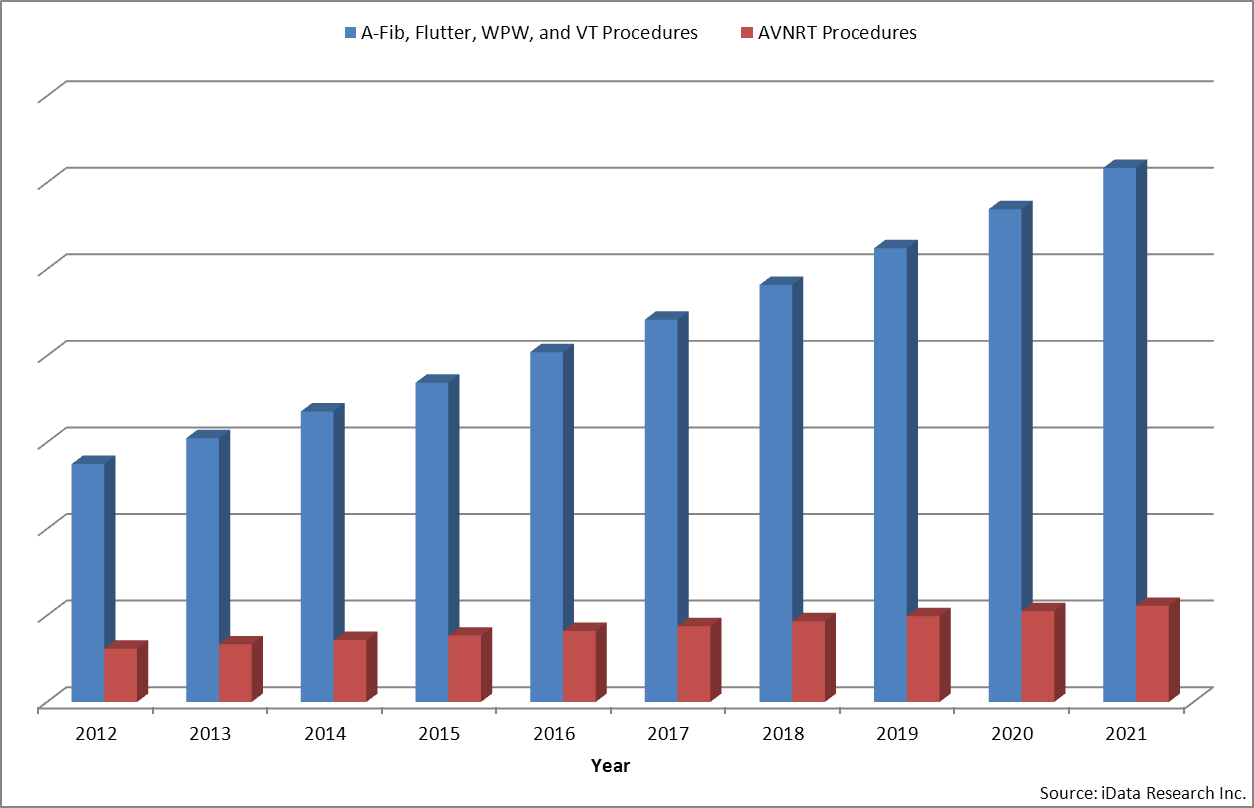 http://www.pdfdevices.com/global-electrophysiology-market-2022-industry-size-share-trends-market-growth-global-analysis-and-industry-forecast-acute-market-reports/
The global market ablation technologies valued at 2.70 Billion in 2015 and is estimated to grow at a CAGR of 10.5% in the forecast period (2015-2020) and expected to reach 4.44 billion in 2020. On-going technological advancements in ablation products, increasing prevalence of cancer and cardiovascular diseases, increasing number of ablation procedures, increasing number of hospitals, surgical, and ablation centers, improving reimbursement scenario in established markets and rising adoption of minimally invasive treatments are key factors fueling the growth of the market.
Emerging markets, including China, India, Brazil, and Mexico have become attractive destinations for companies engaged in the development and marketing of ablation products. Growing popularity of minimally invasive surgeries, government efforts to increase population access for elective surgery, rising focus of global players, large population base, and improving healthcare infrastructure facilities are key factors propelling the demand for ablation technologies in these markets.
****************************************************
THE CHART BELOW OFFER INVESTORS' A VERY INTERESTING ANGLE AS TO WHY AN INVESTMENT IN BSGM AT CURRENT LEVELS MAY OFFER A DOUBLE BARREL UPSIDE REWARD DURING THE NEXT 6-8 MONTHS.
1. We are currently emerged in tax selling season and low priced opportunities always are hit the hardest. The buyers know that there is endless selling during the "happy season" and the smart money stands back and lets the bids soften during the season so as towards the end of December many and most stocks have been hammered.
As we reach the end of Dec. 2016 & into Jan. 2017 there will be numerous factors that will proper this stock higher from the currently depressed and near 52 week low pricing.
Historically, low priced stocks are usually the hardest hit investments during tax selling season, but as a group they usually rebound the most come Jan-Feb. The first year of a new POTUS historically is also very Bullish! The other party had interest in hurting medical and drug companies with new regulations & possible earnings caps ( would have been very bearish for the group as a whole and actually may have created weakness in the whole sector because of this rumbling during the last six months). This scenario has all but disappeared and the group looks to regain its footing and become the sweet spot with investors. So we have a rebound from tax selling, group becomes a favorite of the street and strong Bullish sentiment prevails and leads to a nice bound for BSGM during Jan - Feb 2017. We believe a near term target price for BSGM is $2.00/sh.
2. This chart below indicates clinical milestones that in all cases led to a Buyout of these medical device companies by a large multinational medical device company for large premiums.
Please review the 6 companies mentioned (all related to EP devices and products). It is easy to conclude that only 2 companies ever reached the level of selling their products and most only (1/2) received FDA approval. All 6 candidates finished Clinical Data phase.
The average selling price for each company was $210 million. If we assume that there are some 33 million fully diluted shares outstanding ( this includes most options, warrants and preferred conversions that are out of money and some might expire. This number is not highest but surely gives a better picture of the grand scheme of things).
If we base our calculations on 33 million fully diluted shares & a current share price of $1.33 and if we then value the share price to equal a sale of the company for at least $210 million~~ We calculate a valuation at the end of 8 months if the company is sold (We believe that will be the case. It just makes all the sense in the world because the behemoth Medical device companies already have marketing and distribution already in place) to be at least $7.00/sh.
We actually believe that this price could be as high as $10.00 share because as you have reviewed this document the size of this medical device segment dealing with EP is exploding. The size of this market is going to double in the next 2 1/2 years to $5.5B.
We have 3 choices:
1. A short term pop because of the new dynamics of the market and oversold condition.
2. Investors wait some 6-8 months for FDA approval of this Class 2 medical device. The company is filing a 510K shortly. We believe by mid 2017 that approval will be granted and soon after a major medical company buys the company for $8-$10/sh ( end of story).
3. Management decides to go it alone and forms a joint venture & distribution agreements and build a sales network nationwide and then goes into the EU and Asia. Slower growth but potentially even greater returns for the investor that wants to participate in a true growth story.
WHY THIS INVESTMENT MIGHT BE PERFECT!
1. The product is cutting edge with no competition (management constantly looking to see if any patents are being filed that have similar function) and this specific industrial sector is rapidly growing and will reach $5.5B within a few years.
2. The management team, directors, & advisory board resemble some of the largest medical companies in the world. The talent is top shelf.
3. The management continues to self fund as seen 30-45 days ago raising some $500k among themselves with the option to raise another $4.5 million as needed.
4. The balance sheet has zero debt and has a $42 million NOL which can be used to skirt taxes at some later date if certain scenarios develop.
5. We see limited downside risk at current levels as we are closing in on the end of tax selling season.
6. We believe that a rebound in medical and drug related investments will firm up in 2017 because the cloud of additional regulation has been lifted due to the new administration that will be taking office during Jan 2017.
7. Historically, the first year of a new administration the stock market rallies. We have already seen a "Trump Bounce" to all time highs within the major indices . Some of this excitement is due to the possible reduction of corporate tax rates that will spur business growth with the the USA. A NEW GOLDEN AGE FOR AMERICA!
8. It is in our opinion that BSGM will receive their FDA approval during mid 2017 and that a buyout will occur on or before this approval. As mentioned our target price for the company is around $8-$10/sh.
The stars are aligning themselves for serious appreciation for BSGM during 2017. It is called a "NO BRAINER"! Everything is in place for investors to take advantage of a perfect investment that is heading higher. We just don't how high yet!
WE MAY BUY, SELL AND OR HOLD AT OUR OWN DISCRETION .We own shares in bsgm.
Some material was derived from Goldman Small Cap & SeethruEquity. Some medical data retrieved from various news sources.
SUBSCRIPTION INFORMATION:
1 YEAR HARD COPY $250.00
1 YEAR PERSONAL CONVERSATION WITH EDITOR $3000.00- ANYTIME ACCESS VIA PHONE
1 TRIAL "NEW" STOCK PICK BEFORE RELEASED VIA EMAIL $100.00- INCLUDE PHONE NUMBER.
SEND CHECK AND PHONE NUMBER TO THIS ADDRESS.
S A ADVISORY, 4700 SOUTH HOLLADAY BLVD, SLC ,UTAH 84117- ANY QUESTIONS CALL 949 922 9986