June 17th, 2021
Oil is most likely headed to $80+ within months

America is going to have huge energy problems if it continues down the road to cancel fossil fuel exploration. This administration has only been in office for 6 months and the writing is plastered all over that we are headed for much higher energy prices near term.
Biden has already canceled the "Keystone pipeline", fracking on Federal lands (11%), proposing to limit all offshore drilling (including the Gulf of Mexico), he has suspended development of oil leases in ANWR and many American big banks have red-lined U.S. coal companies and refused to finance oil projects.
The anti-carbon left says the U.S. must banish fossil fuels to meet the Paris goal of limiting global warming to 1.5 Celsius relative to pre-industrial temperatures. This is incompatible with worldwide population that is expected to grow by 2 billion by 2050! EV would have to make up 60% of worldwide car sales by 2030. You have 800 million people who don't have access to electricity. We are banning Coal while Australia,China,India, Russia and South Africa - are planning mining projects that would increase global output by 30%. China has 112 Coal mines under construction .
Progressives want to surrender one of America's major strategic economic advantages in the name of saving the climate( questionable boogie man). The banishment of fossil fuels in the U.S. will not eliminate carbon emission, which will be produced somewhere else!
It is so obvious that China, Russia and Iran will exploit the U.S. retreat on fossil fuels!
Let us look at the Oil and Gas rig component.During Dec 2019 there were 805 rigs working- fast toward to June 2021 only 457! The lag time between drilling, producing and delivery of fossil fuels can and has created greater dependence on foreign energy, higher prices and severe pain for most that drive and heat/cool their homes. The current administration has it all wrong and we the American people will surely suffer.
As mentioned in prior paragraph, the "Keystone" pipeline has been canceled! During the past 2 years at least 4 multibillion-dollar pipeline projects have been canceled or delayed by political road-blocks, and environmental groups are looking to capitalize on the momentum. The next battle ground takes place in Michigan where the Gov wants to cancel the Line 3 that runs along the bottom of the strait of Mackinac. This conduit carries more than 500k barrels of oil and NG per day!
The rebound in global oil demand is set to accelerate in the second half of 2021 as the world continues to burn through the supply glut it accrued last year because of the world wide shutdown due to "Covid"!
Rising consumption will increase to 99 million barrels/day in the second half of 2021, a 5% increase on its level in the first 6 months of the year. The fourth Q is anticipated to reach 100 million barrels/day just shy of 2019's pre-pandemic averages. RECALL 800+ rigs working and now 450!
Wall street's preference for "green" energy will depress spending on oil extraction, setting the stage for supply shortages and higher prices. The drop in fossil-fuel spending is becoming so severe that energy companies could struggle to quench the world's thirst for oil.
Crude is still expected to remain in high demand over the next decade to make transportation fuels and petrochemicals used for plastics and other household products.
So we have the perfect storm developing and it is at our doorstep! Cancellation of further development in the U.S.of fossil fuels, dramatic ramping up of post "Covid" demand and weak dollar ( heavy debt and almost zero interest rates).
Note: A barrel of oil is priced in U.S. dollars across the world. When the dollar is strong, you need fewer dollars to buy a barrel of oil. When the U.S. dollars is weak, the price of oil is higher in dollar terms. (Most likely 1/3 the price in WTI is related to the weakness in the dollar. We don't see any real strength in the dollar during the next 1 1/2 years.)
Natural Gas like Oil has seen a very positive trend on the upside and as we head into 'driving season and air conditioning the price for NG are trending to the $3.50-$4.00 level. Recall, NG was $1.72 in Sept 2020 vs $3.25 on or about June 13, 2021.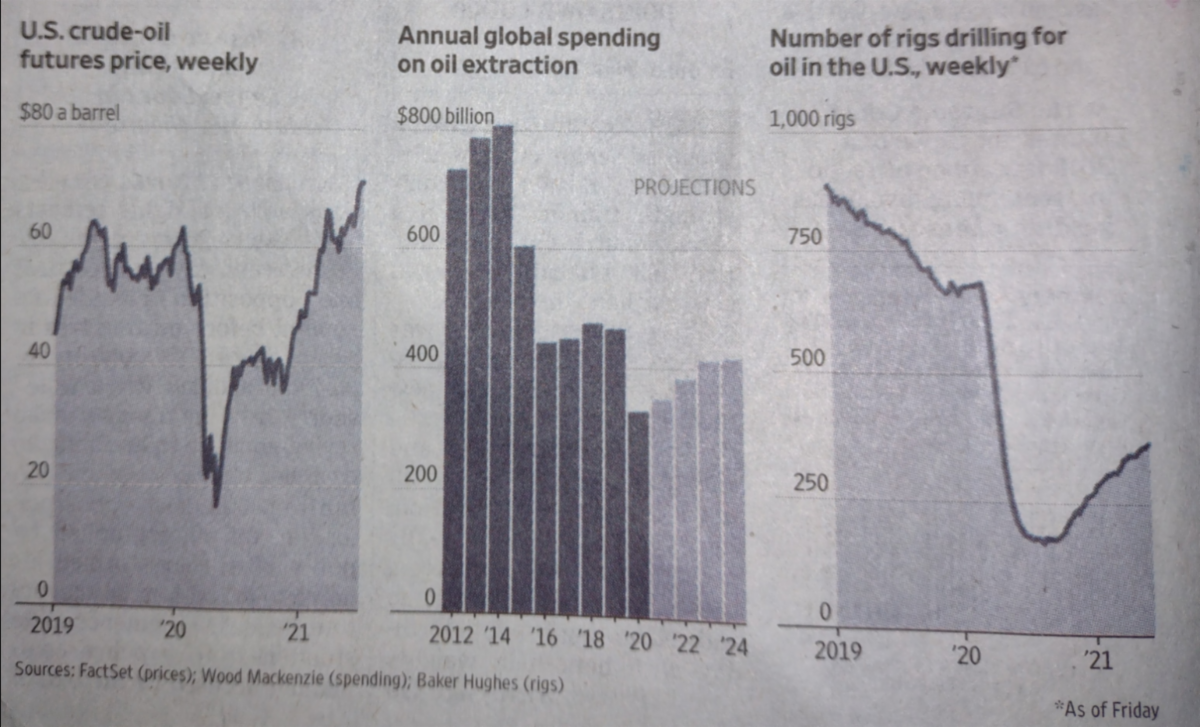 WHY THE FOSSIL FUEL OVERVIEW?
Over the past 3 decades we have actively participated in numerous Oil/Gas drilling programs. Some with great results, while others left us disappointed! Regardless (win or lose) on the production side we always were entitled to extremely attractive tax benefits.
WE HAVE NOT BEEN THAT EXCITED ABOUT OIL/GAS DRILLING PROGRAMS SINCE 2014 ( BEFORE THE COLLAPSE THE DAY AFTER THANKSGIVING AND THE FINAL NAIL IN THE COFFIN WHEN OBAMA SIGNED THE NUKE DEAL WITH IRAN AND OIL COLLAPSED TO $26.00/BARREL)
In our opinion, we have the perfect storm in place for oil and gas prices for the foreseeable future.
The project that we are inviting our investor's to consider has the most attractive returns for both Oil and Gas, a PROVEN RESERVE, A VERY SHORT TERM FOR COMPLETE PAYOUT AND A HUGE TAX BENEFIT!
NOTE: 4 years ago we participated in the Barnes #1 Proven Gas Program with attractive returns. Upon completing the well for production, the service companies created a serious mishap that resulted in technical problems making it unable to complete. We believe this was the result of numerous layoffs and extreme industry shift while the rig was on location. The well had to be abandoned due to the prevailed and the final verdict that thus far proved not to be beneficial for investor's!
NOTE: #1 At present the same lease is being explored and a different technique will be addressed in the Barnes #2 that had not been properly treated in the Barnes #1.
NOTE:#2 ALL PRIOR INVESTOR'S THAT PARTICIPATED WITHIN THE "BARNES #1" WILL RECEIVE 45% OF THEIR INITIAL INVESTMENT FOR FREE! WE BELIEVE THAT THIS PROVES THE ETHICS AND HONESTY OF ENERGY EQUITIES!
NOTE: #3 COPY OF PROPOSED PROJECT~ FOR GREATER DETAIL AND INVESTMENT COST CALL 800-746-4427
NOTE:#4 BRIEF OVERVIEW OF PENDING PROJECT. THE PERMIT, PAD PREPARATION, AND WELL BORE PREP IS HAPPENING NOW AND ACTUAL DRILLING TO COMMENCE WITHIN 30 DAYS.
NOTE #5 FROM RECENT 3D SEISMIC DATA THERE ARE INDICATIONS OF 10.614 BCFG AND 1.2 MILLION BO PER WELL.
THE WELL WILL BE DRILLED DEEPER AND ADDING A LATERAL EXTENSION . THE COMPANY ANTICIPATES PRODUCTION TO BE SUBSTANTIALLY HIGHER THAN A VERTICAL WELL. THE LATERAL WILL EXTEND 250 FEET IN THE DESIGNATED CHANNEL.
ESTIMATED BOD AND MCFGD ------------PRICING---------------------PAYOUT
(COST/POINT $29,500.00~FRACTIONAL CONSIDERATION CONSIDERED)
150 BOD & 3000 $65 WTI/$2.90MCFGD 7.1 MONTHS
300 BOD & 6000 $65WTI/$2.90MCFGD 3.5 MONTHS
450 BOD &9000 $65WTI/$2.90MCFGD 2.4 MONTHS
PLEASE KEEP IN MIND THAT AS OF JUNE 13, 2021 WTI WAS AROUND $71 WTI AND NG WAS $3.26/MCF SO OUR ESTIMATES OF PAYOUT ARE MUCH LOWER BASED UPON THE CURRENT PRICING.
ON JUNE 14TH 2021 THE U.S. BENCHMARK OF $71.72 HIT A 32-MONTH HIGH. THE MARKET IS GROWING INCREASINGLY BULLISH ON DEMAND WHILE RETURN OF IRANIAN OIL LOOKS MORE DISTANT THAN INITIALLY THOUGHT.
WHY INVEST WITH ENERGY EQUITIES (800-746-4427)?
1. DIRECT ASSET OWNERSHIP: You own WORKING INTEREST in oil and gas wells, not energy company stock that is at the mercy of an unpredictable market.
2. GENEROUS TAX BENEFITS: Minimize your tax liability with write-off of up to 100% of your investment THIS YEAR!
3. OIL AND GAS REVENUES: Now is the time to buy oil and gas assets, while a lower cost of entry and extremely low drilling and operating costs position you for very attractive returns ~ we have outlined above.
THE PUZZLE PIECES ALL FIT AT THIS POINT IN TIME. IF YOU HAVE BEEN THINKING ABOUT PARTICIPATING IN OWNING A POTENTIAL PRODUCING OIL AND GAS WELL.
IN OUR OPINION THE RIGHT TIME FOR THE RIGHT PRICE FOR EXTRA ORDINARY
TAX ADVANTAGE AND MONTHLY INCOME.
WE HAVE PURCHASED AN INTEREST IN THIS PROJECT.
PLEASE CALL CHAUNCEY AT ENERGY EQUITIES AND REQUEST A COMPLETE
PDF ON THIS PROJECT 800-746-4427
************************************
June 16,2021 (PRED .20)
PRED CURRENTLY TRADES ON THE PINKS SHEET WITHOUT ANY RESTRICTIONS.
THE 10Q WAS RELEASED FOR THE Q ENDING MARCH 31, 2021.
THE MOST INTERESTING TIDBIT WITHIN THE DOCUMENT CONCERNING A COLLABORATION WITH A COMPANY CALLED "NEBULA GENOMICS"
VERY INTERESTING AGREEMENT BETWEEN BOTH PARTIES.
THE COMPANY DOES WHOLE GENOME SEQUENCING THAT DECODES 100% OF DNA. MORE COMPETITION FOR "23 AND ME" OR "ANCESTRY.COM" THE DIFFERENCE IS THAT "NEBULA" OFFERS MUCH MORE FOR LESS! MAY VERY WELL CREATE A ATTRACTIVE REVENUE FLOW FOR PRED! WE ANTICIPATE ADDITIONAL NEWS NEAR TERM WITH POSSIBLE MANAGEMENT ENHANCEMENT.
REMOVAL OF THE "SKULL" FROM THE COMPANY'S LISTING IS A HUGE ACCOMPLISHMENT. (SHOULD HAVE NEVER HAPPENED IN THE FIRST PLACE)
WE REMAIN COMMITTED!
ELGL-FINALLY SOME CORPORATE DEVELOPMENTS. BFNH HAS FILED AN 8K
WITH AN INITIAL "MOU" TO ACQUIRE ALL OF THE ASSETS OF ELGL. CURRENTLY ELGL HAS LIMITED TRADING BECAUSE OF "SKULL"! ONCE THIS EXCHANGE HAPPENS ELGL HOLDERS WILL HAVE BFNH SHARES ( BFNH IS FULLY REPORTING WITH THE SEC)
VISIT WWW.ELEMENTGLOBAL.COM
ONCE THIS MERGER IS COMPLETE THE REWARD POTENTIAL COULD BE HUGE
BECAUSE OF COMPLETE TRANSPARENCY OF ELGL'S HOLDINGS.
****************************
May 13th 2021
Well it has been 1 year and 2 weeks since the Ultimate nightmare happened with the suspension of PRED by the SEC for a presser concerning Covid 19!
HOW COULD YOU FORGET WHEN YOUR HEART SKIPPED A BEAT!
Bottom-line: The SEC suspended PRED for 10 days and found nothing illegal or had zero indication of fraud. If the company had traded on the NASDAQ the company would have continued to trade as before.
In our situation we were sent to the "grey market" prison! There are no windows or doors in this Abu Ghraid prison for "bad" companies. This dungeon offers little comforts for the shareholders that own this paper. Many on-line platforms as well as regional and major wire houses forbid the trading in these pariah. In addition, if that was not enough punishment the mighty sleazy website, "OTCmarkets" placed the "skull and crossbones" on our chest just for good measure! Not only did PRED have to deal with an almost complete shutdown of all current business in addition the company now had to deal with stock market HELL! Finally after 11+ months or so FINRA released us from the "greys", the torture was not over. OTCmarkets "dog" continued to hold us hostage until May 13th when they finally removed the "skull"! We had an army calling them + management! They finally gave us FREEDOM!
If this had not happened on or about May 25th 2021 ALL platforms would NOT allow any buying only selling! Have you figured that out yet? If you cannot buy how can you sell?
How I feel about OTCmarkets cannot be expressed honestly because this is a public document. Their whole Modus operandi is chilling that the SEC allows them to make companies pay fees or are blackballed !
It is funny how the SEC and FINRA try to protect the small investor! Usually the results is quite different than the intent. The SEC should shut OTCmarkets down because the harm that they create for shareholders and the company in question is extremely harmful!
Just ask a PRED shareholder!
As of May 13th 2021 we became fully compliant and can be purchased on all platforms ( unless some spineless firms disallow penny stock purchases). If any investor has interest in purchasing PRED and are looking for a viable /honest platform we would suggest TD Ameritrade 1-800-669-3900!
It has been a terrible experience and surely the worst that we have have encountered in the 37 years that we have published S. A. Advisory. The storm has passed ( on Mars they can last for years) and now we believe that we are entering a new dawn!
We anticipate the current 10Q will be released within regulation demands. We believe that we will start to see an increase in Stem Cell sales. The Covid testing most likely "petered" out! We believe that the WJ Flow has been well received by clinics that use these therapies.
Please visit www.predictivebiotech.com and review this specific division . There is plenty of news, video and charts.
The April 20th 2021 presser communicates exosome uniqueness and how materials such as mRNA are carried. As you know mRNA allowed for the creation of our Vac against Covid 19. This is very exciting technology that PRED has been involved in and researching how it relates to Stem Cells.
Too many investors only look at the price of the stock, which they use as a major barometer for how successful that specific company might be! PRED has been neglected by the investment community for so long because of the mentioned nightmare that the true value of all the PRED pieces surely have been miss priced.
IN OUR OPINION, THIS IS ABOUT TO CHANGE!
We believe that near term we may see change within the structure of the company which could also include the formation of new divisions.
PRED has submitted documents with the FDA for specific uses for Stem Cells. We know regardless of FDA approvals that Stem Cells during 2020 generated some $4 billion in sales and growing rapidly.
Stem cells are being used for respiratory issues created by covid. Stems have been used and continue to be injected into knees for osteoarthritis conditions. Recently, Umbilical cord lining stem cells are being utilized in a topical skincare to promote skin health.
PRED continues to pursue women's health issues, ( endometriosis & fertility issues).The company continues to pursue genetic science issues as well.
PRED has emerged and in our opinion is focused on rebuilding, expanding and growing with the ultimate goal to enhance shareholder value and with time too uplift to a more suitable exchange! We still believe that averaging down at this point-in-time is the most wisest strategy to undertake.
We continue to rate PRED with a strong BUY rating because the clouds have parted, the sun is out and all we see is Blue Sky!
We have not been paid for our opinion.
We may buy, sell and or hold at our own discretion.
yours truly
William Velmer
---
WE MAY BUY, SELL AND OR HOLD AT OUR OWN DISCRETION .We currently own shares in all stocks mentioned..
Coming Soon: On our homepage near term we will have a new clock that will count down the 12 years left because of the climate change. We offer this as a free public service to all that may be interested so as you can manage your time more efficiently.
SUBSCRIPTION INFORMATION:
1 YEAR HARD COPY $250.00
1 YEAR PERSONAL CONVERSATION WITH EDITOR $3000.00- ANYTIME ACCESS VIA PHONE
$1800.00 ANYTIME ACCESS VIA PHONE FOR 6 MONTHS- CALL FOR INFORMATION- WE CALL YOU AND YOU CAN CALL US+ FIRST CALL ON RECOMMENDATIONS PRIOR TO ALL OTHERS.
1 TRIAL "NEW" STOCK PICK BEFORE RELEASED VIA EMAIL $100.00- INCLUDE PHONE NUMBER.
SEND CHECK: S A ADVISORY, 4708 S HOLLADAY BLVD, SALT CITY, UTAH 84117
QUESTIONS 949 922 9986