A WHOLE ARRAY OF MILITARY VEHICLES USE OPXS'S PRODUCTS: STRYKER, ABRAMS & BRADLEY FIGHTING VEHICLES, LIGHT ARMORED VEHICLES(LAV) ARMORMED MULTIPURPOSE VEHICLES (AMPV)
A POORLY EXECUTED IPO CONDUCTED BY GUNNER HAS CREATED A TREMENDOUS BUYING OPPORTUNITY
WEBSITE: WWW.OPTEXSYS.COM /PHONE 972-764-5700
~~~~~~~CORPORATE OVERVIEW~~~~~~~
OPXS manufactures optical sighting systems and assemblies, primarily for DoD applications. Its products are installed on various types of U.S. military land vehicles, such as the Abrams & Bradley fighting vehicles, light armored and armored security vehicles and have been selected for installation on the Stryker family of vehicles. The company also manufactures and delivers numerous periscope configurations, rifle & surveillance sights & night vision opitcal assemblies. The company is both a prime and sub-prime contractor to the DoD. Sub-prime contracts are typically issued through major defense contractors such as General Dynamics Land Systems Raytheon Corp, BAE, NorcaTec and others. The company also is a military supplier to foreign governments such as Israel, Australia and NAMSA & South America and as a subcontractor for several large U.S. defense companies serving foreign governmnets.
Recent Orders
February 2016~~ $1.2 million award from General Dynamics Land Systems.
April 2016~~$841K in an initial order for advanced laser protected periscopes from U.S. Army Contracting Command.
May 2016~~ $1.12 million purchase order from a domestic customer.
June 2016~~OPXS completed a shipment of periscopes to Brazil for $518K.
July 2016 ~~ OPXS secured a 5 year contract with the Defense Logistics Agency for $5.9 million.
September 2016~~ A $450K order from Defense Logistics Agency to supply collimators for the Abrams Main Battle Tank.
September 30th 2016~~ A $570K order received for Cable Periscopes that enable the Abram's Plow capability.
October 2016~~ Backlog is at least $10+ million at any time according to management in a recent conversation.
Note: On or about August 22, 2016 Optex Systems Holding, Inc. conducted a public offering and raised around $4.25 million after all expenses. The offering consisted of Units ( 1 common share @ + 1 five year warrant exercisable @ $1.50 for a 5 year period) priced @ $1.20/unit. There was also a Class B Unit priced @ $5 thousand/unit, with each unit comprised of one share of preferred with a conversion price of $1.20 which is convertible into 4,167 shares of common and warrants to purchase 4,167 shares of common.
The securities comprising the units were immediately separable and are currently trading separately. The common still has the same symbol OPXS and the Warrants symbol is OPXXW.
The offering closed on or about on the 26th of August 2016.
PLEASE NOTE: THE NEXT SERIES OF VIDEOS DISPLAY ALL OF THE MILITARY VEHICLES THAT OPXS SUPPLY EQUIPMENT FOR:
Abrams Tank
https://www.youtube.com/watch?v=t1oXoHUqlNg
https://www.youtube.com/watch?v=0NS5sbmqL9Q
https://www.youtube.com/watch?v=akBQ3q5PQ6E
Bradley Fighting vehicles
https://www.youtube.com/watch?v=P1nLoyl6dS
https://www.youtube.com/watch?v=BA27t8xvq-8
https://www.youtube.com/watch?v=40tBxHsydlI
https://www.youtube.com/watch?v=LHNLrQyTeQs
https://www.youtube.com/watch?v=CsX2I-LThko
light armored vehicle
https://www.youtube.com/watch?v=VHSHvDim3F0
https://www.youtube.com/watch?v=IknWxtOTICY
https://www.youtube.com/watch?v=My_g7cgnJbA
https://www.youtube.com/watch?v=7CMKHjJ38wQ
Stryker family of vehicles
https://www.youtube.com/watch?v=ZtItt4cDcuQ
https://www.youtube.com/watch?v=23YeWNozM8c
https://www.youtube.com/watch?v=GsxC7qBAvjI
https://www.youtube.com/watch?v=mr4oEN7DsuQ
Amored-multipurpose vehicle:
https://www.youtube.com/watch?v=It4rCLeIuyo
https://www.youtube.com/watch?v=vzYuJdE7FV4
https://www.youtube.com/watch?v=x6rzymVhSAg
http://www.baesystems.com/en/product/armored-multipurpose-vehicle-ampv
Additional Information concerning OPXS
Corporate overview which include all products:
http://www.optexsys.com/product-2012/m36-sights
OPXS serves the US DoD industry fully ITAR compliant.
Periscopes M-series-laser and non-laser protected Acrylic and Glass periscopes--35%
Sighting systems CSS MRS BIG EYE Digital Day & Night Muzzle Reference Systems, Ship binocular & Collimator--19%
AOC-Laser interference filters- Optical Coatings--2
Other components- repairs Howitzer-9%
OPTEX SYSTEMS HOLDINGS (divisions)
1. OPTEX SYSTEMS
Military optical sighting systems, Weapons Systems, Optical sub-assemblies. High Def Imaging Systems. Thermal and Night Vision Systems. Video Display Systems.
2. APPLIED OPTIC CENTER
Premier Thin Film Coatings, Precision Optical Assembly Processes. Stabilized Monoculars and Binoculars.
Prime Contractor for TACOM, US ARMY,NAVY & MARINES
Overview of product line:
PERISCOPES: laser & Laser Protected Plastic & glass Periscopes, Electronic M17 Day/Thermal Periscopes, Vision Blocks
SIGHTING SYSTEMS: Back up Sights, Digital Day & Night Sighting Systems (DDAN), M36 Thermal Periscope, Unity Mirrors
HOWITZERS: M137, M187 Mount, M119 Aiming Device
COMPANY INFORMATION:
website: http://www.optexsys.com
phone: 972 764 5700
Corporate contact: Danny Schoening CEO
Oct 7, 2015~ 1000 to 1 reverse
September 30th, 2016~ 6,862,434 shares outstanding fully diluted.
The remaining Series "C" preferred converted will result in 8.4 million shares fully diluted upon conversion. Alpha has 372 Series C which when converted will equal 1,550,133 common shares.
If should be noted that partial funds received from recent offering were used to convert Sileas Preferred into common. Both Sileas and Alpha have 6 months lock-up.
Sileas currently holds 4,041,914 common shares and is collared by lock-up and SEC 144 regulation.
From the recent stock offering of Units (common share and 1 five year warrant exercised @ $1.50) there are currently 4,125,200 warrants outstanding and they are non-callable.
Brief financial data:
Q ending June 26, 2016
Shareholders Equity as stated ~$8 million as of June 26, 2016
Shareholders Equity Est. after the close of Aug 2016 offering~ around $10.5 million ( Around $2 million was used to convert Sileas Preferred into common)
Book value/sh based upon current and fully diluted shares outstanding ~$1.53~ Currently trading @ 50% below stated book value~ BULLISH
http://ir.stockpr.com/optexsys/sec-filings/content/0001615774-16-006613/0001615774-16-006613.pdf
http://ir.stockpr.com/optexsys/sec-filings/content/0001571049-15-009981/0001571049-15-009981.pdf
Revenue for the 9 months ending June 26, 2016
******2015**************2016*************
$7.8 million **********$11.8 million
3rd Q
$2.3 million **********$5.34 million
Loss ( $1 million)****$ income $199,000.00
Year end results
$13 million ***********$18 million estimated
We believe that 4th Q will be the strongest Q of the fiscal will have income of $350K~ based upon current shares outstanding that should equal around 05 for the Q.
Estimated fiscal 2017 we anticipate much stronger revenue and earnings. During 2016 there was a structural conversion and results of a reverse split in late 2015. The company also completed a public offering that was not near term positive for shareholders ( 1 month ago the stock was over $2.00 and now .73~ We will discuss the reason for this cratering!)
During 2017 we believe because of increase in military spending that revenue for OPXS will start to accelerate in growth organically ( anticipate acquisition which will step up the grow pattern). We assume from conversation that OPXS will reach $24 million and earn $1.5 million or .21/ fully diluted shares outstanding (6,840,000)
Based upon the current share price of .73 our PE est. equals 3.5X 2017 earning estimates. VERY BULLISH
PSR-Using our 2017 estimates OPXS equals an extreme low number of .20 ( A value of 1 is consider very cheap) VERY BULLISH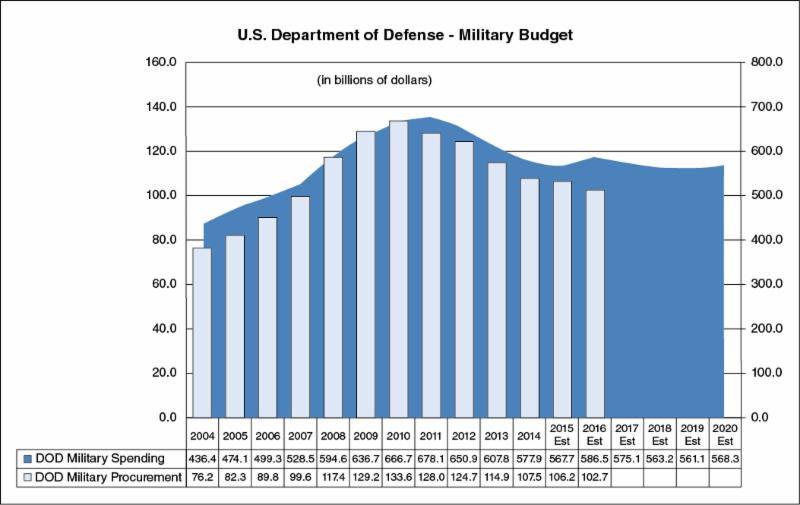 Please review the above chart that demonstrates how military spending has drifted dramatically lower during the past number of years because of the Budget Sequester under the current Obama Administration. We have been involved in countless conflict around the world for many years and we have seen a steady drop in DoD spending.
This is about to change and it is our in opinion that replacement and upgrades as well as new purchases of vehicles used in conflict that use equipment that OPXS manufactures will explode in demand. Over the past few years much of OPXS's competition has either filed BK or gone out of business. OPXS own's much of their markets.
We first introduced OPXS a few months ago @ $1.75/sh and of course at present it trades around $.79. As mentioned earlier within this document that Joseph Gunnar & Co. completed a small raise for the company during August 2016. The Hedge Funds and Institutional investors that bought the offering decided that they would sell the common and only keep the warrants (OPXXW). For leverage the warrants are an excellent play on the company's future with limited investment. Many of the player's in the deal sold the common and basically there has been a lack of buyers to absorb the overabundance of shares for sale. This has resulted in a blood bath for other investor's that currently own shares @ higher prices.
Note: If all warrants are converted this will result in an additional $6+ million and 4 million additional shares outstanding.
The warrants as mentioned are a terrific way to play OPXS. ( Let us say that the stock in 1 years time is trading @ $5.00/share that would roughly be 7X the current price. The last trade for the warrants was .30 around 1 month ago. The warrant exercise price is $1.5 and if the stock is $5 then the warrant must be $3.50 in real value and most likely we must add another .50 because there is so much time left for the warrants and they are not callable. So we have a $4 trading warrant and you have just made 16X your investment. THE LEVERAGE IS AMAZING AND THE RISK IN THIS SITUATION IS VERY TINY.
We of course believe that within 5 years that the current price will be dramatically higher than the current over sold pricing of OPXS common shares.
A huge growth driver that should cause stock appreciation during the next couple of years as mentioned prior is because of DoD spending on upgrades, replacement and modifications of the Abrams1,Abrams M1 AsepV2, Bradley, Stryker and new vehicle AMPV. The U.S. land vehicle forecasts 2016-2024 equals over $6.7 billion for the Stryker, $6 Billion for the Abrams M1 and M1V2 and $6.2 Billion for the Bradley. There will be some $1.4 Billion for LAV upgrades. The DoD new vehicle AMPV will initially produce 100 out of 25,000.
The trend for Defense spending during this decade & beyond in our opinion is going to accelerate and this can be seen in stocks such as GD ($155.00), LMT ($$240.00) and RTN ($136.00). These 3 companies are all major DoD players. They all are near their 52 week high or making new highs. There are very few industrial groups that are on such firm footing. The worsening Geopolitical meltdown worldwide indicates limited near term risk on the downside. Truly a recessionary proof investment group that should be considered at all levels of investing.
If we compare current fundamentals of GD (P/B-4.3X, PE-16.5X, PSR-1.5), LMT (P/B-24X, PE-20X, PSR-1.44), RTN (P/B-3.89X, PE-19X, PSR-1.7) and value OPXS with the same variables, but with lower valuations one will see just how cheap this company is being valued.
OPXS is anticipate to grow by at least 35% over 2016 year-end numbers. We will assign a PE of 1/2 growth rate. If we assign a PE of 15 and use the .21 earnings for fiscal 2017~the resulting share price equals $3.15. The estimated PSR for 2017 equals .20 if we assign a value of 1X ( 1 is cheap ,3 is valued and 6 is overvalued) our share valuation equals $3.65. The current Book Value equals $1.53. If we assign a conservative 2.5X book then our share price equals $3.90.
Anyway you slice, dice, carve or mangle OPXS based upon true fundamental is worth many times the current depressed share price of $.73
Reasons to add OPXS to your portfolio.
1. Recession Proof
2. Increase in Military spending worldwide because of geopolitical tension and the increasing threat of global terrorism.
3. Extremely undervalued because of estimates and current fundamentals.
4. Acquisition oriented for additional growth.
5. Very seasoned management.
6. Strong Set-Aside opportunities with DoD because of Federal Policy ******
7.Limited competition because most went BK or are in default.
8. Trading @ 52 week low because of poorly executed "Unit" offering during August 2016. Has created amazing BUYING OPPORTUNITY for Defense Contractor that continues to deliver solid growth as new contract announcements continue.
9. The warrants OPXXW are another excellent way to play the timely and accelerated growth potential of OPXS.
10 Management intends to qualify for Nasdaq listing once the share price reaches qualifications.
When you consider the industry, the fundamentals, the upside potential and current cheap valuation of OPXS we have placed a STRONG BUY RECOMMENDATION WITH A $3.50-$4.00 ONE YEAR PRICE TARGET.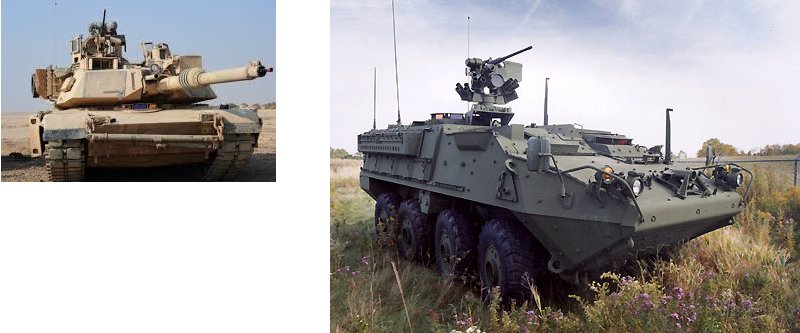 WE MAY BUY, SELL AND OR HOLD AT OUR OWN DISCRETION .We current own shares in OPXS and also have a position in the OPXXW.
SUBSCRIPTION INFORMATION:
1 YEAR HARD COPY $250.00
1 YEAR PERSONAL CONVERSATION WITH EDITOR $3000.00- ANYTIME ACCESS VIA PHONE
1 TRIAL "NEW" STOCK PICK BEFORE RELEASED VIA EMAIL $100.00- INCLUDE PHONE NUMBER.
SEND CHECK AND PHONE NUMBER TO THIS ADDRESS.
S A ADVISORY, 4700 SOUTH HOLLADAY BLVD, SLC ,UTAH 84117- ANY QUESTIONS CALL 949 922 9986