Laparoscopic Device Market is fueled by increasing adoption of minimally invasive surgeries in the General Surgery Segment!
Encision,Inc. ECIA A growing player in this huge market that in our opinion offers ground floor opportunity/deep value discount!

Encision ECIA~.43 fundamentally very cheap with a "charged" future within the minimally invasive surgeries.
Laparoscopy is a minimally invasive surgical technique performed through a keyhole incision. A small camera along with a light source attached to a flexible tube enables surgeons to maneuver special laparoscopic devices to the target area and carry out surgical procedures. This technique is mainly preferred for surgeries related to the pancreas, liver, colon,bile duct, stomach, and other internal repairs.
By end-use, the global laparoscopic devices market is segmented into hospitals, clinics andambulatory surgical centers. Hospital end-use segmented is expected to dominate the overall laparoscopic devices market.
In terms of market value, of all the regions, North America is projected to dominate the global laparoscopic devices market in terms of revenue share leading up to 2025. Asia Pacific including Japan is expected to witness significant growth just as Europe and the Middle East.
Encision, Inc. ECIA ~ ECIA
website: www.encision.com
phone number 303 444 2600
shares outstanding: 10.7 million
insiders control: 40% &Institutions own 10%
Chart: Bullish ~ above 50 and 200 day moving averge
52 week range~.18-.55
Last news: July 27 2017~ 1st Q fiscal 2018~.02/rev $2.4 million.
ENCISION Earnings Release Q1 FY2018-JULY
book value .20
PSR: Current price to sales ratio .46 ( a value of 1 considered cheap and very undervalued
PE: Est. earnings for fiscal 2018 ~ .08-10. Note: within 1st Q presser mentions that 2nd Q will also show a profit. PE est. 5.4X
3 major players within the laparoscopic industrial segment : Medtronics, MDT forward PE 15X trading 2X bk, Intuitive Surgical, ISRG forward PE 38X trading 3X bk and Smith & Nephew SNN PE est not available and trading @ 4X bk
www.stocktwits.com $MDT $ISRG $SNN
NOL $1.25/sh outstanding share. Could be a very attractive element for either an acquisition or buyout potential. The common shares trading for $.43 and an NOL of $1.25
Corporate Overview:
Food for thought!
LAPAROSCOPIC SURGICAL BURNS KILL 1-2 PEOPLE EVERYDAY AND CAUSE A SERIOUS COMPLICATION EVERY 90 MINUTES.
ECIA developed the AEM Burn Protection system that eliminates stray energy burns during Laparoscopy. The product protects the patient from stray energy and is safely drained away from the patient. Hospitals using AEM as a standard of care significantly outperform the US national average for surgical complications.
Active Electrode Monitoring AEM:
1. Saves lives and reduces surgical complications
2.Saves money from CMS HAC penalties, patient re admissions and lawsuits.
3. Provide optimal results with high performance AEM laparoscopic instruments.
Monopolar laparoscopic instruments have an inherent problem with their design; they are prone to insulation failure and capacitive coupling, causing patient burns . These stray energy burns occur in the surgeon's blind spot As a result, they typically go unduagnosed and further manifest into severe complications. Stray energy burns led to more than 62k patient complications and 4000 preventable patient deaths over a 10 year period in the US.
Please take a hard look at ECIA's AEM Technology when compared to others in the field. The chart and comparison is the deal closer.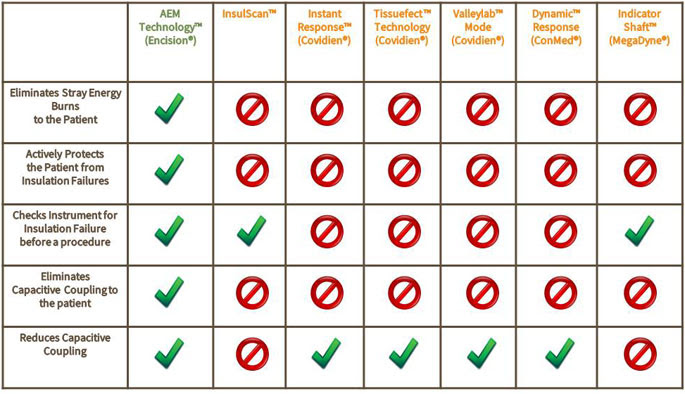 WE all know that ECIA is a small micro-cap within a industrial/medical segment that has only one direction to go and that is up up and away!
If you don't have little patience then move on to greener pastures. This is a "green shoot" that has been nurtured for many years and it is in our belief that either the company will get bought out or enter a rapid growth stage because of the internals of the market and the sheer market size.
In review, Encision offers a complete line of premium laparoscopic monopolar surgical instruments with integrated AEM technology. These instruments offer excellent performance and the Encision Guarantee to eliminate stray energy burns. The company also offers a number of complimentary products to improve effectiveness and patient safety, including bipolar and cold instrumentation.
Overview: This micro-cap could sizzle for investors that like ground floor opportunities with limited risk on the downside. We have a company that trades with a PSR of .45 ( Price to Sales ratio- a value of 1 is consider very undervalued~while 3 would be considered fairly valued and a value of 6 would be considered overvalued). Upon review of the 1st Q results, Management expresses with confidence that 2nd Q would be profitable. Upon review of past financials we believe that ECIA will earn at least .08-10 for the balance of fiscal 2018 ending March 31, 2018. If we base that upon a share price of .43 a resulting PE est. of 5.4X is calculated. The book value is .20 so the shares are selling @ twice book. ECIA could easily sell @ 5X book or $1.00. If we assigned a modest PE of 15X then well would be trading @ around $1.20. If we traded at PSR @ 1.5X then the share price would equal $1.50 We have not taken into account their many patents that they have and we have not valued their juicy $1.25 NOL/sh.
This juicy NOL offers the company the option to be acquired or to acquire a corporate fit and be shielded from certain tax consequence. It would not be out of the ordinary to have someone attempt to tender the company for $2/sh . This would only be 2X current sales~ a major player could steal this company for less than a prayer! We rate ECIA with a strong buy rating @ current levels for short and long term capital gains. Do not hesitate if you like the storyline . These shares will not remain in a deep slumber for long.
Surge Components SPRS current price $1.00- Strong Buy

The Company operates with 2 sales groups, Surge Components and Challenge Electronics. Surge is a supplier of electronic products and components. These products include capacitors, which are electrical energy storage devices, and discrete semiconductor components, such as rectifiers, transistors, and diodes, which are single function low power semiconductor products that are packaged alone as compared to integrated circuits such as microprocessors. The products are used, but not limited to, autos, audio products, temperature control products, lightning products, energy related products, computer and various consumer products,
The Challenge Electronic division is engaged in the sale of electronic components. Their core products include buzzers, speakers,microphones, resonators,alarms, chimes,filters and discriminators. The company also customizes products to meet customers demands. The company also redesigns and assists with the introduction of new product lines.
http://www.surgecomponents.com
The financial overview:
3rd Q results ending August 31 2017 & 2016
**************$8.7 million**vs $8.2 million
net income***$415K ****** vs $391K
per/sh**********.08**********vs******.04
share outstanding 5.2 mil***vs*****10.2 mil
9 months ending August 31, 2017 & 2016
****revenue****$22 mil****vs***$21.6 mil
net income******($43K) *****vs****$383K***
per share*********(.01)******vs*****.04***
book value:.82
cash/sh:.30
NOL: $1.76/sh
PSR:.17 ( a value of 1 is considered extremely undervalued
PE est.: For fiscal 2018 starting December 2017
We believe that the fourth Q of fiscal 2017 could equal or surpass the just reported 3rd Q of fiscal 2017. That would equal another .08+/fully diluted share.
Upon reading the 1st Q message from the President of Surge one leaves the page with an extremely bullish outlook near term and beyond .
One must consider the growth world economy especially China, US, India and Asia that demand for there products is going to grow rapidly. We also believe that considering the tiny market-cap that Surge is ripe to be bought out.
NOTE: It should be noted that the first half of fiscal 17 was affected by tender offer expense ( company retired 50% of the outstanding common sh at $1.40 buyback.
Please read the 3rd Q presser and you decide if this is a screaming buy!
The real value of SPRS is much higher based upon the Oct 16, 2017 share count of 5.2 million shares. The 7 mil+ number includes the preferred that may or may not be converted.
The PSR valuation of .17 is an indication just how cheap this company is trading for. A value of 1 is considered cheap and undervalued. If Surge traded @ 1x sales the stock would trade @ $6.00. It is was to trade @ 3x bk which is not that "rich" we would have a share price of $2.50. We believe that this company can earn .25-.30 next year and if we assign a PE est of 13X then a share valuation of $3.25 .
All of our calculations lead us to much higher share price that is trading as if it is a Lotto Ticket!
If the world economies strengthen as markets around the world have rallied in recent months then it is "hole in one" for shareholders of this deep discount value play that even the radar cannot pick it UP. We rate Surge with a strong Buy rating for near term capital appreciation and a possible acquisition candidate search or "bait" for a larger "fish" in the "SEA" of Electronic Technology!
Dextera Surgical, Inc. ( DXTR .26) UPDATE-Oct 22, 2017
website: http://www.dexterasurgical.com
The company designs and manufactures proprietary stapling devices for minimally invasive surgical procedures. The company also markets the only automated anastomosis devices for coronary bypass graft surgery on the market today: the C-Port Distal Anastomosis Systems and PAS-Port Proximal Anastomosis System.
An exciting development for the company was the recent approval by the FDA that it has received clearance to use its MicroCutter 5/80 Stapler and MicroCutter 30 White and Curved Tip White Reloads in conjunction with open solid organ parenchymal dissection techniques including organs such as the liver, kidney pancreas and spleen.
According to management this additional clearance into new clinical areas represents an additional 44,000 procedures in the USA.
Please take some time and visit DXTR's website and review the excellent presentation that was introduced on August 24, 2017 at the Southern California Investor Conference located in Newport Beach, California.
We believe that the most compelling angle about DXTR is the fact that they compete in a $2 billion total World Wide surgical stapling market and the recent clearance by the FDA increases their presence. The current balance sheet and income statement are not pretty, but that could change because of additional catalysts that could be forthcoming near term.
B. Braun a behemoth Medical company is in the final stages of developing a partnership with DXTR to market and distribute their products within the EU and OUS. We assume an upfront fee and attractive royalty fee are in the final stages since the FDA has given DXTR its blessings.
The company could get bought out by any number of giant medical equipment companies that already own the space or want a "toe hold" in this promising and growing medical segment.
In order to refresh your memory we included last months dialogue concerning DXTR.!
HOUSTON WE HAVE A PROBLEM or do we?
Stocks are very much like women~ you never know how and when they are going to react. The herd thought that the Braun's deal would be inked by now and the company would get a bag of money and all the unicorns would be having cocktails and toasting with shots of McCallan 25. Well, not so fast~ We also found out that there was issues with quality supplies needed to build "quality" products. We are happy that quality control is at the top of the list with this company. We don't need faulty products that start killing people. This would be just another thing we could blame Trump on!
The company is also being delisted from the NASDAQ and will trade on the OTCQB Venture Market. This primarily results from the lack of equity requirements. This is of course is a huge development, but not the end of the story.
I assume that if a deal does not materialize soon with Braun or some other party near term that the company will do a RS and then consider an equity raise. AT present the stock is around .26 and we recommended it at around .32 so we hit a bad hand of "blackjack" or rolled "snake eyes"! The reality as HAL said in 2001 Space Odyssey," It's going to go 100% failure in 72 hours!" This is not the case~ DXTR will either survive with new a round of funding or be sold to a larger player. Are the sharks circling because of DXTR chum? Of course they are and for good reason~ As mentioned above with a new recommendation within the Laparoscopic industrial segment the growth potential is huge and DXTR just as ECIA has a product that is sorely needed in order to reduce surgical issues and lead to a more speed recovery with less risk to human life.
We mentioned that this opportunity was a speculative buy and it has lived up to our concern.
Please go and review the recent 10k that was "late", but released on Oct 13th 2017. The income statement and balance sheet would drive one to an Opioid pill popping session to reduce the financial pain.
It is very important too realize that with only 48 million shares outstanding as of Oct 03, 2017 that DXTR only has a market cap of $12 million. This company is worth much more than this valuation which leads us to believe that the bottom is near or been reached regardless of all the heart-stopping press and cardiopulmonary resuscitation will not be needed.
Most of weak herd has already gone to slaughter and taken their lumps, but patience may still be the key to the success in DXTR and one should consider averaging down gingerly because a pot gold may still be at the end of the rainbow!
Stock Performance during past 18 months
SYMBOL***REC PRICE***10/22/17**STATUS
OPXS----------.70------- $1.10 -----strong B
OPXXW--------.15------------$.40 . --strong B
On October 19th paid another .02 for both the common and warrants. The remaining div for the next six months will be another .02/quarter. The warrants are still yielding 10%. The exercise price is $1.50 non- callable and expire August 2021.
VUZI------------$6.35------$$5.15 --strong B
We assume tax selling season has started to eat away at the current price. We need a major catalyst in order to jolt shares to much higher level.
ESMC---------- .10-----------.14 ---strong buy
Appears to be moving higher.Cheap penny stock
STRI---------.26-------------.21. ------Strong Buy
Don't miss this opportunity- It is going to create a huge reward for patient investors- read last e-mail from 9/11 for complete story.
AETI-----------$1.60---------$1.60 ----- BUY
WPCS-------$1.25----------$1.66 ----- BUY
During the past few weeks wpcs ran to $3.38-great profits to be had.
MKRYF-------.10------------.04. --------HOLD
BSGM---------$1.33--------$1.65-- Strong BUY
On Oct 19 BioSig Tech according to presser advances towards commercialization into the Global Electrophysiology market estimated to reach $8.2 billion by 2022.
SIMA---------$2.50---------$5.00------BUY----
ASNB------------.07--------.085 ------buy-
HEMA-----------.35-------$3.27 ----strong B
Recent made a new 52 week high of $3.75
LUVU------------.055------. .03 --------BUY
QDLC------------.52--------$1.00 --------BUY
We should be seeing earnings within a few weeks.
VII-----------------.41---------- 405 ------BUY
Once the "rights" offering is complete by Nov 2, 2017 we should see a bump to higher levels.
LPAD------------.80-------$1.03 bought out
ARWR------------2.80------3.87 --Strong Buy
Our opinion has not changed since our 9/11 report
DXTR--------------.31---------.26 ---Strong buy
See complete update within this document.
SPRS--------------$1.00-----------new buy recom
ECIA--------------- $.46------------new buy recom
Rhodium overview:
Rh is a chemical element and an atomic #45. It is a rare, silvery, hard, corrosion resistant and chemically inert transition metal. Rh's major use ( approximately 80% of the world production) is as one of the catalysts in the three-way catalytic converters in Automobiles. Because rhodium metal is inert against corrosion and most aggressive chemicals, and because of it rarity, rhodium is usually alloyed with platinum or palladium and applied in high-temperature and corrosion-resistive coatings.
It is used as a finish for jewelry, mirrors,and search lights. It is also used in electric connections and is alloyed with platinum for aircraft turbine engines.
Major sources of supply: South Africa is the major source, accounting for almost 60% of the world's rhodium supply. Russia is the second largest producer.
This rare metal touched $10,025/oz during late 2007 and recently hit a 12 low of $600/oz during late 2016. At present the "rare" metal has rallied briskly and trades at around $1480/oz
Due to rarity, the small size of the market and concentration supply- prices are typically volatile.
Robust car sales in China and US and firming sales worldwide, where gasoline vehicles dominate, coupled with rising emissions standards worldwide has been a real boost for the metal. We anticipate continued upside momentum and could see $2500 faster than a crow could ever think about flying. The price has recently broken a 5 year high and "blue sky" appears on the horizon
The supply has gotten even tighter because there now 2 ETF's ETF's are also competing for the physical metal.(LON~XRHO.L current price $130.00. The Bloomberg Ticker symbol XRHO.LN.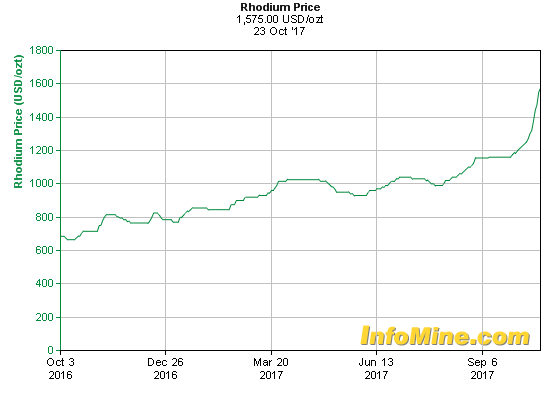 The physical Rhodium tracker ~ Physical Rhodium ETC~ simple way to gain exposure to spot prices. The dba is backed by allocated Rhodium. The underlying physical Rhodium is stored in secure and uniquely identifiable bottles in sponge form.
Bars can be purchased in 1 and 5 oz bars or larger. The spread is crazy ( always $100.00), but has been the best PM during 2017.
The herd is just starting to wake up to this opportunity and we believe that this potential moonshot has fuel to surprise the players. The rarity and tight supply and worldwide economic growth and the EFT all point in one direction.
Google the metal for metal outlets or visit www.kitco.com for purchase opportunities. The current price is around $1455/oz
Briefs on other opportunities:Out spoken opinion:
1.The market making all time highs (23,328). Since Trump came to office! Why? Has freed American business from 100's and 100's of regulations, plan to lower taxes for Corporations from 35% to 20%, dismantling Obamacare, stop signing onto treaties that hurt American jobs, back to leading the world, turned on 2 pipelines for greater energy independence and excite other countries to move their operations to the US. We also have the "shorts" that cannot believe and low inflation, low interest rates and extremely low fossil fuel expense. This is why we are up 25% since Trump has taken Office. The Trump hater's will never admit the run, but i bet they are enjoying their 401K appreciation.
Our version of "FAANG" ( many use fang)
FG----$174---PE est 40X - Look at me i am special and need attention. I can not really read or write, but i can post. I cannot add and I don't know when the War of 1812 was fought?
AAPL---$156--PE est 18X cheapest of the bunch. Sure they have lots of money and the magical I-Phone, but competition is grueling. Who needs a $1000.00 phone. I believe it is one-trick pony without a saddle.
AMZN--$982-- PE est 250. Amazon has changed the world. A Behemoth that has changed the landscape of retail. Very rich PE. I rather shop on their site
NFLX--$194--PE est. 236 WOW- build for untimate perfection. Extreme pricing and scary.
GOOG--$988--est PE 36 another power house that offer little chance of error in earnings.
We of course would own none of them.
TSLA--$345 never really earned any money! The green car enthusiasts love this car, but other well established auto manufacturers are hot on their heels. The market cap is lunacy. If it was not for the tax incentives that you and i pay this company would sell only a fraction of their green vehicles. Sure they don't use gasoline, ever wonder where the electric charge comes from to charge these speedsters. Ever wonder what happens to these highly polluting batteries when they are sent to the grave yard of spent fuel cells?
APRN-$5-PE -none. New issue that was priced at $10 and ran to $11 and currently trades barely @ $5.00. Who needs food poisoning when you have wallet poisoning. So you get this box of cardboard, plastic, cooling gel, paper & other rapping material and little plastic containers and jars. Yes there is special foods for the delicate foodies. Lots of competition, poor dedication to their product and endless coupons to attract short term samplers. Worth $3! Maybe NFLX will buy them so they can include the movie that you already have seen.
SNAP--$15- Another winning . I think it was priced @ $21 ran to $30 and sunk to $11, but has since recovered a little. I think FB is all over them. Another over-hyped social media worthless and brainless addition to our soulless society of the "Smartphone" virus that has destroy real interaction. Look around these days.
MADGA-Make America Defense Great Again!
RTN-$189--PE est. 26X, GD $213--PE est 21X, LMT -$320--PE est. 19
Expensive with respect to price, but opportunity still exists. Trump will rebuild our depleted military. Everything will be rebuilt to keep us strong and ward off the enemy states. We will not lead from behind anymore. We are not part of the world order and will never be like passive Europe ever again.
Our military sleeper remains OPXS ($1.10) and the jewel OPXXW(.40) ( 2021 non callable warrants that has a strike price of $1.50 and still has a yield of 10% for next 6 months. Military optics for most vehicles in our Armed Service- Abrams tanks, Stryker,Bradley and LAV vehicles + other gear for Navy and consumer products. -Strong buy
WE MAY BUY, SELL AND OR HOLD AT OUR OWN DISCRETION .We currently own shares in all stocks mentioned..
SUBSCRIPTION INFORMATION:
1 YEAR HARD COPY $250.00
1 YEAR PERSONAL CONVERSATION WITH EDITOR $3000.00- ANYTIME ACCESS VIA PHONE
$1800.00 ANYTIME ACCESS VIA PHONE FOR 6 MONTHS- CALL FOR INFORMATION- WE CALL YOU AND YOU CAN CALL US+ FIRST CALL ON RECOMMENDATIONS PRIOR TO ALL OTHERS.
1 TRIAL "NEW" STOCK PICK BEFORE RELEASED VIA EMAIL $100.00- INCLUDE PHONE NUMBER.
SEND CHECK AND PHONE NUMBER TO THIS ADDRESS.
S A ADVISORY, 4708 SOUTH HOLLADAY BLVD, SLC ,UTAH 84117- ANY QUESTIONS CALL 949 922 9986